My window air conditioner finally died broke down after 40 years of service over the last year (can't beat an old Fujitsu for longevity), so decided to get a cheap Kogan AC to get us through summer.
It arrived with a big dent on the rear corner and it looks like the cage has been pushed into the cooling fins, bending a few of them at the contact point.
I've set it up already and it works fine and given the hassle involved in dismantling it from my window and getting the courier out here, etc. I'd rather keep it, but I think given the quite serious damage a partial refund is warranted. Have a look at the photos below and see for yourself: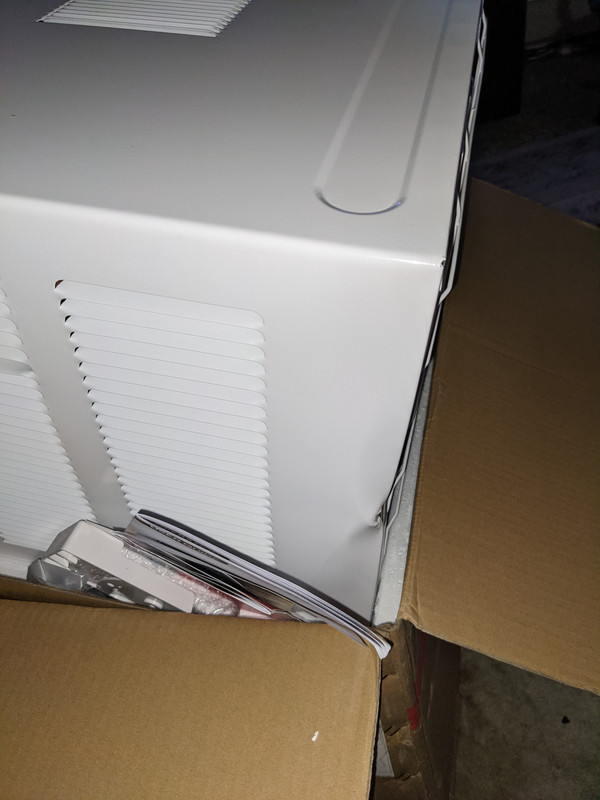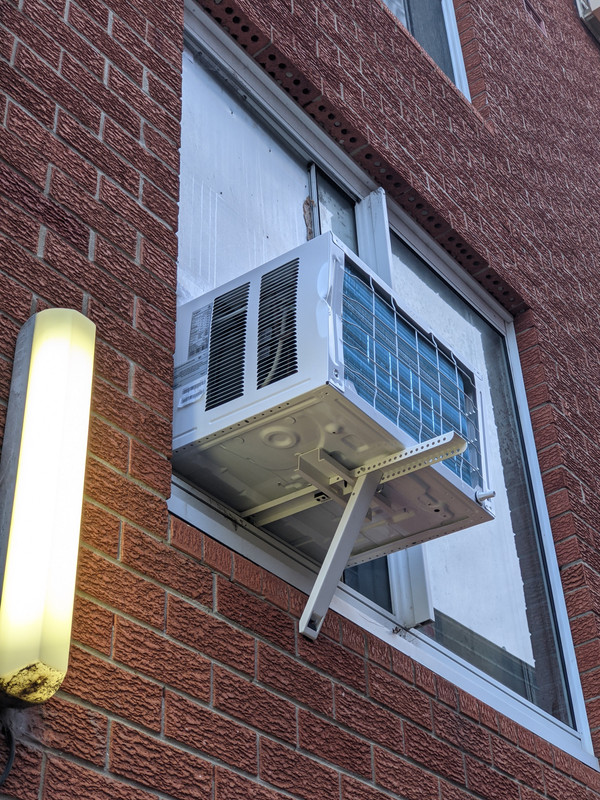 I contacted Kogan yesterday explaining the situation (I did say that I would rather keep the unit) and this is the email they sent:
Hi XXXXXXXX,

Thank you for your email and for providing the photos.

Allow me to assist you.

I'm sorry to see your item has suffered some damage during the delivery process.

While it's difficult to confirm, based on the details provided it's likely the damage is purely cosmetic and the product will function perfectly fine.

If you confirm the unit works well and you're interested in keeping it, we would be happy to provide you with an account credit to the value of $30 as a gesture of goodwill.

Alternatively, if you find any function has been impeded or would simply prefer a replacement, we can arrange to have the item returned.

Should you accept the credit offered, this will not in any way affect the warranty of your product and we will be sure to note down the condition in which it arrived.

Please let us know how you would like to proceed and we'll make the necessary arrangements promptly.

We look forward to hearing from you and sorting this out.

Please get back to me and I'll be happy to assist you further.

Kindest regards,

XXXXXXXX
Customer Care Team
My end game here is to avoid shipping the thing back as much as possible because functionally the device is OK, it is already set up on my window, and warranty shouldn't be an issue because the damage is documented in Kogan's system from my previous email, but I do think being charged full price to receive the equivalent of something that is so damaged that it wouldn't even be on the floor of a factory seconds shop is not cool.
The offer of a $30 credit sounds very low given the massive dent in the side and the bent cooling fins, not to mention the shipping came to $60 in the first place. Has anyone ever had success negotiating with Kogan on a partial refund?