CHOICE released new survey data today around unit pricing issues.
From the article:
44% Australian shoppers are using unit pricing to reduce their grocery spending.
97% of shoppers who use unit pricing find it helpful.

But 71% have also had problems using it in supermarkets:

** 35% say the unit price was not always displayed*
** 34% say unit pricing text was difficult to read*
** 31% say unit pricing was obstructed or covered by another label*
You can read more here:
Or watch the summary video on Youtube: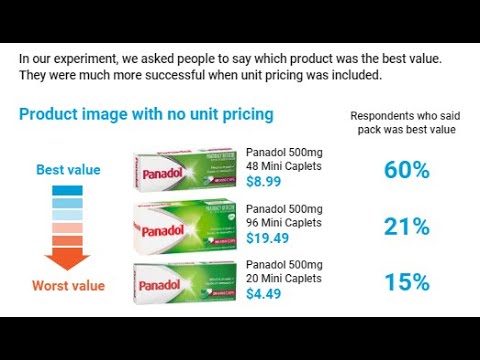 Interesting comments from @ijarratt around supermarket issues around unit pricing:
"Why do we tolerate this high level of problems? Supermarkets make sure you can read the selling price of a product, yet the unit price is the only one they are required by law to display prominently and legibly," he says.

*"Supermarkets need to make it much easier for consumers to notice, read, understand and use the unit prices. They should be prominent and legible wherever the product is displayed, whether that's on the top, middle or bottom shelves. That might mean greatly increasing font size and angling labels out if they're on upper or lower shelves. *

"There also needs to be greater consistency in the units of measure used for the unit prices," he says.
We've closed a number of the older unit pricing threads so we can collect recent unit pricing issues here - please share your thoughts and experiences below.